A surge is a random, high energy, short duration voltage event. Also referred to as transients, impulses or spikes, these random electrical disturbances can damage or destroy sensitive microprocessor-based equipment.

Sources of surges:
Although external transient surges including lightning strikes, utility grid switching and equipment action at adjacent buildings are easily recognized high energy surge events, they only account for 20% of all surges faced by a facility. 80% of surges are the results of internal switching transients (turning on/off motors, transformers, photocopiers, etc.). Wiring, grounding errors and surges (also known as transient voltages) are among the most common power quality issues facing facilities today – resulting in safety concerns, equipment damage and costly downtime.

TVSS is not luxury - it's a necessity.
In today's highly competitive markets, surge suppression is recognized as the key to solving transient related power quality problems. Small businesses, manufacturers, multinational corporations and defense research facilities worldwide have learned that their initial investments in surge suppression can be quickly returned by reducing equipment damage, decreasing maintenance costs and improving system uptime. Choosing a surge suppression manufacturer with a reputation for quality products and services is vital to ensure your investments in valuable systems, hardware and operations are safeguarded. Eaton is that manufacturer.
The System Shield Solution
System Shield is a proven, effective method for total facility protection. This layered approach protects all of your electrical and electronic equipment, from powerful motors to sophisticated lighting controls and sensitive computer-based controllers. With System Shield, protection begins at the incoming power panels and extends to system distribution centers, panel breakers, points of use, and even individual equipment. This coordinated approach is supported by the Emerald Book (IEEE Std. 1100-2005), a definitive reference published by the Institute of Electrical and Electronics Engineers (IEEE). This standard states "It is recommended that additional [SPDs] be applied to downstream electrical switchboards and panel boards if they support. ANSI/IEEE C62.41-2002 separates a typical facility into three location categories, each characterized by differing exposure levels, transient wave shapes, voltage/current levels and transient sources. The category locations illustrated here (C, B & A) serve as the basis for a simplified explanation of the System Shield Solution.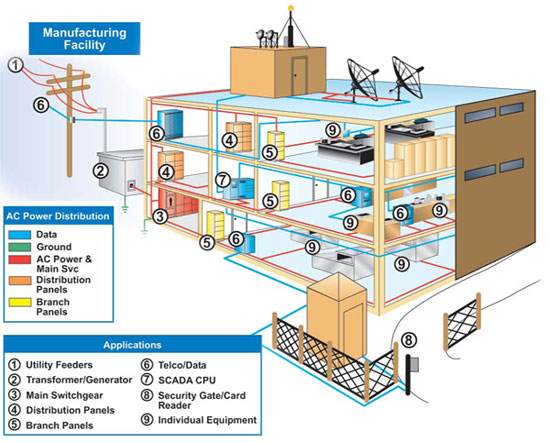 The I.T. Protector
The Innovative Technology Protector series is a premier line of surge protective devices designed to provide excellent protection under the harshest electrical conditions. These UL 1449 and UL1283 listed products meet strict guidelines for durability and protection and are backed up by a 20-year free replacement warranty. Available in peak surge current capacities from 48 kA to 400 kA per phase and with the optional Power Event Monitor, Eaton has all your surge protection needs covered with the I.T. Protector!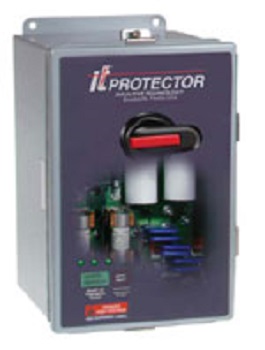 Power Event Monitor
Eaton has enhanced the protection provided by the Protector line of transient voltage surge suppressors (TVSS) with the Innovative Technology TVSS Power Event Monitor. While the TVSS protects the electrical distribution system from harmful transient voltages, the TVSS Power Event Monitor notifies the facility personnel of where and when such surges occur. The TVSS Power Event Monitor helps users gauge and monitor power surges, whether onsite or remotely via standard communication protocols, so you can take corrective action.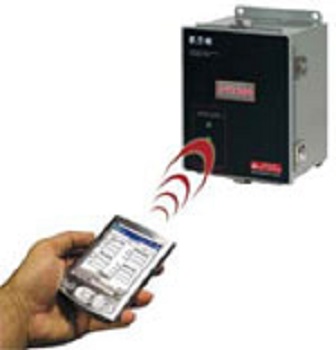 The I.T. Equalizer
I.T. Equalizer Surge Protective Devices (SPDs) provide high quality transient voltage surge suppression for industrial and commercial applications. Field proven with unsurpassed durability, reinforced by a ten-year free replacement warranty, the EQX line is available in a variety of configurations and current capacities from 40 kA – 160 kA per phase. The I.T. Equalizer is THE choice for cost-effective, high quality systems protection.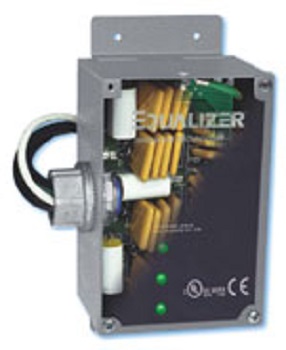 XT Series Surge Protective Devices
XT Series Protective Devices (SPD) provide high quality transient voltage surge suppression for light industrial, commercial, point of use and OEM applications. The XT Series is the industry's first UL1449 Third Edition listed product to achieve a best-in-class of 20,000 amp nominal discharge current. The XT series is available in a variety of configurations and surge current capacities of 50 and 100kA per phase.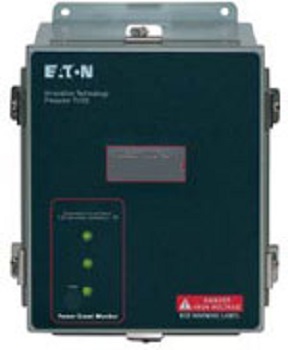 Residential Protection
Sensitive electronic products throughout a home are subjected to transients generated by home sources such as HVAC systems, garage door openers, laundry machines and other electrical loads as well as external sources such as lightning, outages and utility switching.

The Innovative Technology line of residential surge protection devices protect computers, large screen televisions, game consoles and other sensitive electronic devices from the effects of repetitive transients and lightning. Your Innovative Technology master distributor can help you choose the right protection for your home.