Few things in this world are more critical than properly containing radioactive waste, so calling the Hanford Nuclear Reservation "essential" is a bit of an understatement.
Over a million barrels of nuclear waste from the Manhattan Project are stored in tanks located at the 200 East area of the Hanford Nuclear Reservation near Richland, Washington.
But they can't stay there forever. Especially after an underground tank started leaking.
The U.S. Department of Energy started the radioactive waste treatment plant project more than 20 years ago and contracted with Bechtel to help run it. Plant personnel convert nuclear waste from its raw liquid form into a solid trapped within glass.
This process, called vitrification, allows radioactive material to be safely stored for many millennia.
Breakdowns and outdated equipment create catastrophic downtime
To perform vitrification, nuclear waste is poured into a large box. Bubblers and air pressure stir the waste as it dries. Then silica sand and other glass-forming ingredients go into the mix, which is melted down at temperatures of around 1,000 C.
This molten mixture is poured into stainless steel containers, where it hardens into glass with the radioactive waste safely trapped within.
The plant's cold crucible induction melter is the heart of the vitrification process. The melter generates intense heat, so the cooling system is critical for function and safety.
Unfortunately, the 800-horsepower vertical shaft motors that serve the huge cooling tower malfunctioned in early 2022, leaving the mechanical team scrambling to find a solution. Harmonic issues in the bearings might've caused shaft wobbling that damaged the impellers and left the motors inoperable.
The motors were shipped out for repair. But in the meantime, Bechtel was on a hard deadline to get the melter working again. If they couldn't, they risked defaulting on their DOE processing contracts — and halting the progress of harmful waste reduction.
Bechtel subcontracted with another company to fix the issue. They provided PCW pump skids to get plant cooling water flowing again. But the team quickly realized that the system's VFD control panels were woefully outdated.
The subcontractor got in touch with their equipment vendor. And they subcontracted Energy Management Corporation to provide a control panel to operate two 500-horsepower, 480-volt, three-phase motors.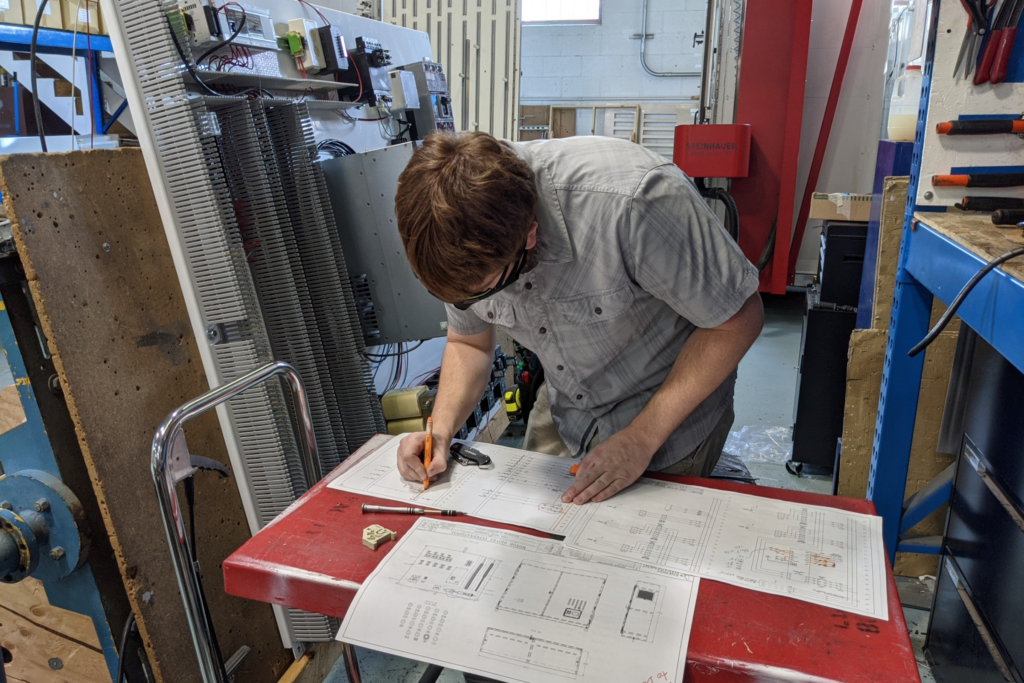 Collaborative design and personal service provide rapid delivery
Mike Weitzel was charged with leading the project. The senior engineering electrical tech specialist had worked with Bechtel for more than 13 years, and he knew just what he was looking for.
Mike wanted two 500-horsepower motors fed by large generators with a UL 508A industrial control panel. But he needed Energy Management Corporation to navigate industrial supply chain issues and expedite equipment delivery.
And he got more than he expected.
Mike visited Salt Lake City to ensure EMC had the capabilities the project demanded. He met the company leadership who led him on a facility tour. Then they reviewed the project engineer's designs and worked through some initial issues together.
Have an electrical project but need advice?
EMC's focused on giving you all of the information you need and answering any questions you may have. Contact us today and experience the EMC process for yourself.
He left Salt Lake City confident that EMC's facilities, expertise and personal service were exactly what Bechtel needed in an energy partner.
"I could see that they were a great resource for a nuclear plant or any large facility with pump stations," he said. "Their CEO got with me to resolve some of the issues we had in the control panel. I was very impressed with Steve. He took a personal interest and showed me around the facility. The experience and knowledge they have with adjustable speed drives is, I think, second to none. I would put them against almost any company I've ever seen."
Mike was especially impressed with EMC's knowledge of harmonics, such as how to mitigate harmonics that can affect the motor shaft on large medium-voltage motors. That might've caused the plant's initial motor failure, but it won't be a problem anymore.
"I was grateful, thankful and very impressed," Mike said. "They got our work completed within a short order and made it happen for us. I'm really impressed with the control panel. The workmanship and engineering were solid. The materials used were good quality, and I was very pleased. It's a really good, serviceable unit."
Expert execution and reliable service create satisfied customers
Hanford Nuclear Reservation's new industrial control panel for their 500-horsepower motors arrived on expedited delivery.
Each motor is independently powered from the generator. EMC customized the system to include a requested service entrance that provides maintenance access to prevent future downtime.
"I was very pleased and very impressed with their professionalism, with how gracious all of them were to me as a client, and their delivery of the product," Mike said. "They expedited the delivery and made it happen for us when we needed it, so I could not have been more pleased, honestly."
The Hanford Nuclear Reservation now has the system it needs to reduce the environmental risks of radioactive waste. And Bechtel knows they can count on EMC to help with any new emergencies.
That's why Mike's still singing EMC's praises. "I would highly recommend them to anyone, especially those who have a big municipality, a farming operation, a mining operation, nuclear facilities, they should become good friends to EMC," Mike said. "They will help when customers need it."

Ensure the best for your next project
Work with our personable and reliable team of experts when you need things done right the first time.
We're trusted by nuclear waste reservations, municipal water plants, major mining operations and other critical enterprises to ensure success upon delivery. And those deliveries are made on time and on budget, so you can get to work.

If you can't afford another setback with an important project, let's talk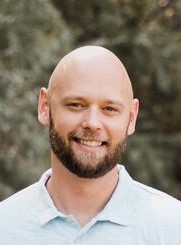 Vice President of Sales
Motor & VFD guru, VFD applications expert, medium voltage VFD expert, leading E-commerce sales at Energy Management Corp, 10 Years in the Electrical Automation Industry