What is Lockout/Tagout?
Lockout/Tagout (LOTO) is a "specific practice and procedure to safeguard employees from the unexpected energization or startup of machinery and equipment, or the release of hazardous energy during service or maintenance activities. This requires that a designated individual turns off and disconnects the machinery or equipment from its energy source before performing service or maintenance and that the authorized employee either lock or tag the energy isolating device(s) to prevent the release of hazardous energy and take steps to verify that the energy has been isolated effectively" (OSHA). You can find the official OSHA standard on the Control of Hazardous Energy (Lockout/Tagout) in Title 29 of the Code of Federal Regulations (CFR) Part 1910.147 for more information.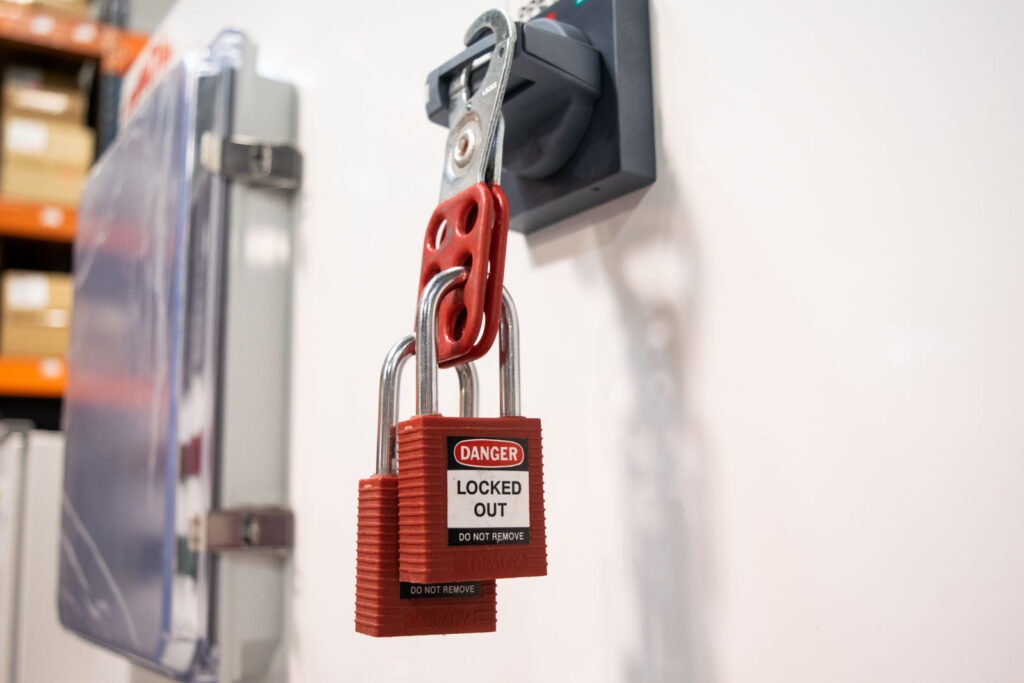 Lockout/Tagout Procedures
The lockout portion of a lockout/tagout procedure is put in place to "hold energy-isolation devices in a safe or "off" position" (OSHA) during servicing or routine maintenance to protect the technician working on the equipment.
Steps to a Proper Lockout/Tagout Procedure:
Prepare equipment, affected individuals, and surrounding area for shutdown.
Shut down the machine(s).
Disconnect or isolate the machine(s) from the energy source(s).
Release, restrain, or otherwise render safe, all potential hazardous stored or residual energy. If a possibility exists for reaccumulation of hazardous energy, regularly verify during the service and maintenance that such energy has not reaccumulated to hazardous levels; and
Verify the isolation and de-energization of the machine.
Apply a Lockout/Tagout device for each person that is performing work on the equipment.
Perform service and maintenance.
Steps for Removing a Lockout/Tagout Device:
Inspect machines or their components to assure that they are operationally intact and that nonessential items are removed from the area; and
Check to assure that everyone is positioned safely and away from the machines.
Remove all lockout/tagout devices.
Let all affected employees know that the equipment is about to be reenergized.
Reenergize equipment and ensure all equipment is operating properly.
Say, there is no way to physically lock your equipment in the off position. OSHA is prepared for that. If your machine was manufactured before January 2, 1990, this may be the case (Although it is law that if you need to perform any major repairs, renovations, or modifications to these older pieces of equipment, you must equip them with energy isolating devices capable of accepting a lockout device). OSHA states that "you must fasten a tagout device as close as safely possible to the energy isolating device in a position where it will be immediately obvious to anyone attempting to operate the device".
Tagout devices "are prominent warning devices that an authorized employee fastens to energy-isolating devices to warn employees not to reenergize the machine while they maintain it. Tagout devices are easier to remove and, by themselves, provide employees with less protection than do lockout devices" (OSHA). There are limitations to tagout devices, however. Tags are only warning devices. They do not provide the physical restraint of a lock. Tags may evoke a false sense of security for the technician and need to be checked periodically during maintenance to make sure they have not been removed.
LOTO Device Standard
Both lockout and tagout devices must follow certain requirements set forth by OSHA including:
They must be durable enough to withstand workplace conditions. Tagout devices must not deteriorate or become illegible even when used with corrosive components such as acid or alkali chemicals or in wet environments.
Hardware should be standardized according to color, shape, and size. Tagout devices also must be standardized according to print and format. Tags must be legible and understandable by all employees. They must warn employees about the hazards if the machine is energized, and offer employees clear instruction such as: "Do Not Start", "Do Not Open", "Do Not Close", "Do Not Energize", or "Do Not Operate".
It also must be substantial enough to minimize the likelihood of premature or accidental removal. Employees should be able to remove locks only by using excessive force with special tools such as bolt cutters or other metal-cutting tools. Tag attachments must be non-reusable, self-locking, and non-releasable, with a minimum unlocking strength of 50 lbs. Tags must be attachable by hand, and the device for attaching the tag should be a one-piece nylon cable tie or its equivalent so it can withstand all environments and conditions.
And it should be labeled to identify the specific employees authorized to apply and remove them (OSHA).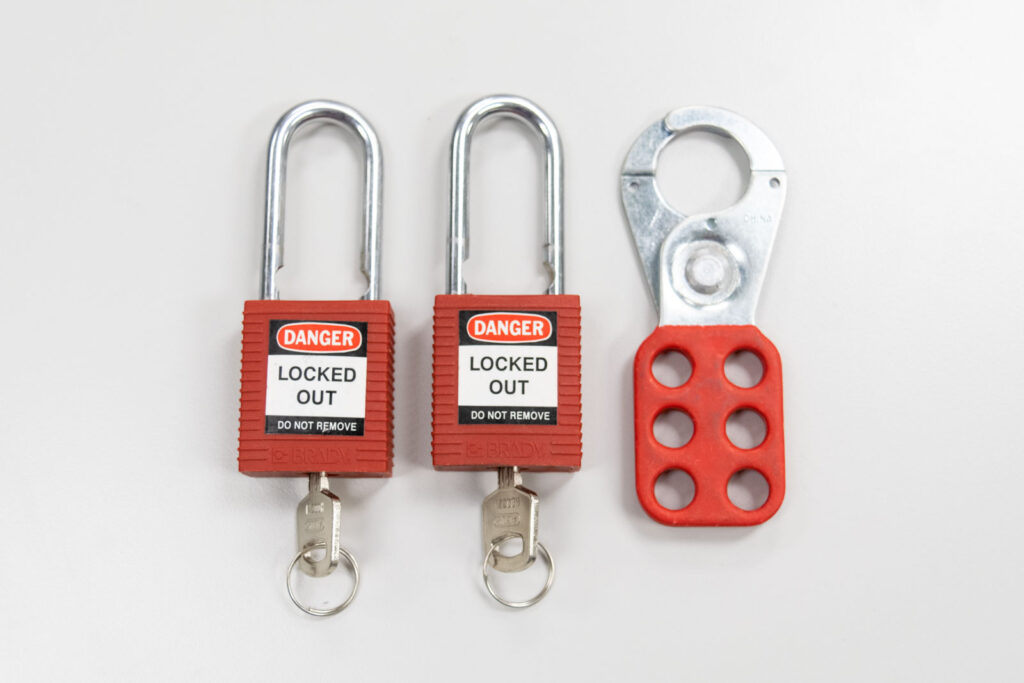 You may be asking yourself, does this procedure pertain to me, my business, or my employees? OSHA says: If your employees service or maintain machines where the unexpected startup, energization, or release of stored energy could cause injury, the standard likely applies to you. The standard applies to all sources of energy including, but not limited to, mechanical, electrical, hydraulic, pneumatic, chemical, and thermal energy.
Training
If these procedures apply to you or your business application, you must train each and every employee that may be affected by lockout/tagout. This includes new employees AND employees who may be switching roles within the company. Every employee that may even possibly walk past an area where a lockout/tagout may occur should be trained in what lockout/tagout means and how to treat the hardware that may be applied in their area. Retraining must occur any time a periodic inspection reveals, or an employer has reason to believe, that shortcomings exist in an employee's knowledge or use of the energy-control procedure (OSHA). Employers must also certify that employees have been trained. These certifications must contain each employee's name and the dates of their training.
OSHA Documentation Requirements
OSHA requires that employers must develop, document, and use specific procedures to control potentially hazardous energy when employees are servicing equipment or machinery (29 CFR 1910.147(c)(4)(i)). There are a few situations where documentation of the procedures is not required.
The machine or equipment has no potential for stored or residual energy, or for reaccumulation of stored energy after shut down, which could endanger employees.
The machine or equipment has a single energy source that can be readily identified and isolated.
The isolation and locking out of that energy source will completely deenergize and deactivate the machine or equipment.
The machine or equipment is isolated from that energy source and locked out during service or maintenance.
A single lockout device will achieve a locked-out condition.
The lockout device is under the exclusive control of the authorized employee performing the servicing or maintenance does not create hazards for other employees.
The employer has had no accidents involving the unexpected activation or reenergization of machines or equipment during servicing or maintenance.
OSHA Hardware Requirements
Continued from the section above, below are OSHA's requirements that pertain to lockout/tagout hardware. They include:
Hardware must be durable, so that they are capable of withstanding the environment to which they are exposed for the maximum period of time that exposure is expected.
Must be singularly identified.
Must be the only devices used for controlling energy.
Must not be used for other purposes.
Must be standardized within the facility in at least one of the following criteria: color, shape, or size. Additionally, tagout devices must be standardized as to print and format.
Must be identifiable, in that it indicates the identity of the employee applying the devices.
Specific requirements for tagout devices:
Must be constructed and printed so that exposure to weather conditions or wet and damp locations will not cause the tag to deteriorate or the message on the tag to become illegible.
Must not deteriorate when used in corrosive environments such as areas where acid and alkali chemicals are handled and stored.
Must be standardized in print and format.
Must be substantial enough to prevent inadvertent or accidental removal.
Must have an attachment means of non-reusable type, attachable by hand, self-locking, and non-releasable with a minimum unlocking strength of no less than 50 lbs and having the general design and basic characteristics of being at least equivalent to a one-piece all-environment-tolerant nylon cable tie.
Must warn against hazardous conditions if the machine or equipment is energized.
Must include a legend such as: Do Not Start, Do Not Open, Do Not Close, Do Not Energize, or Do Not Operate.
Following all OSHA guidelines is key to keeping you and your employees safe. See Title 29 of the Code of Federal Regulations (CFR) Part 1910.147 for more in depth guidelines on Lockout/Tagout rules and regulations.
---
Got More Electrical Safety Questions? We Can Help!
Call

800-595-5315

Or Connect With Our

Expert Technicians

Here:
---
Other Articles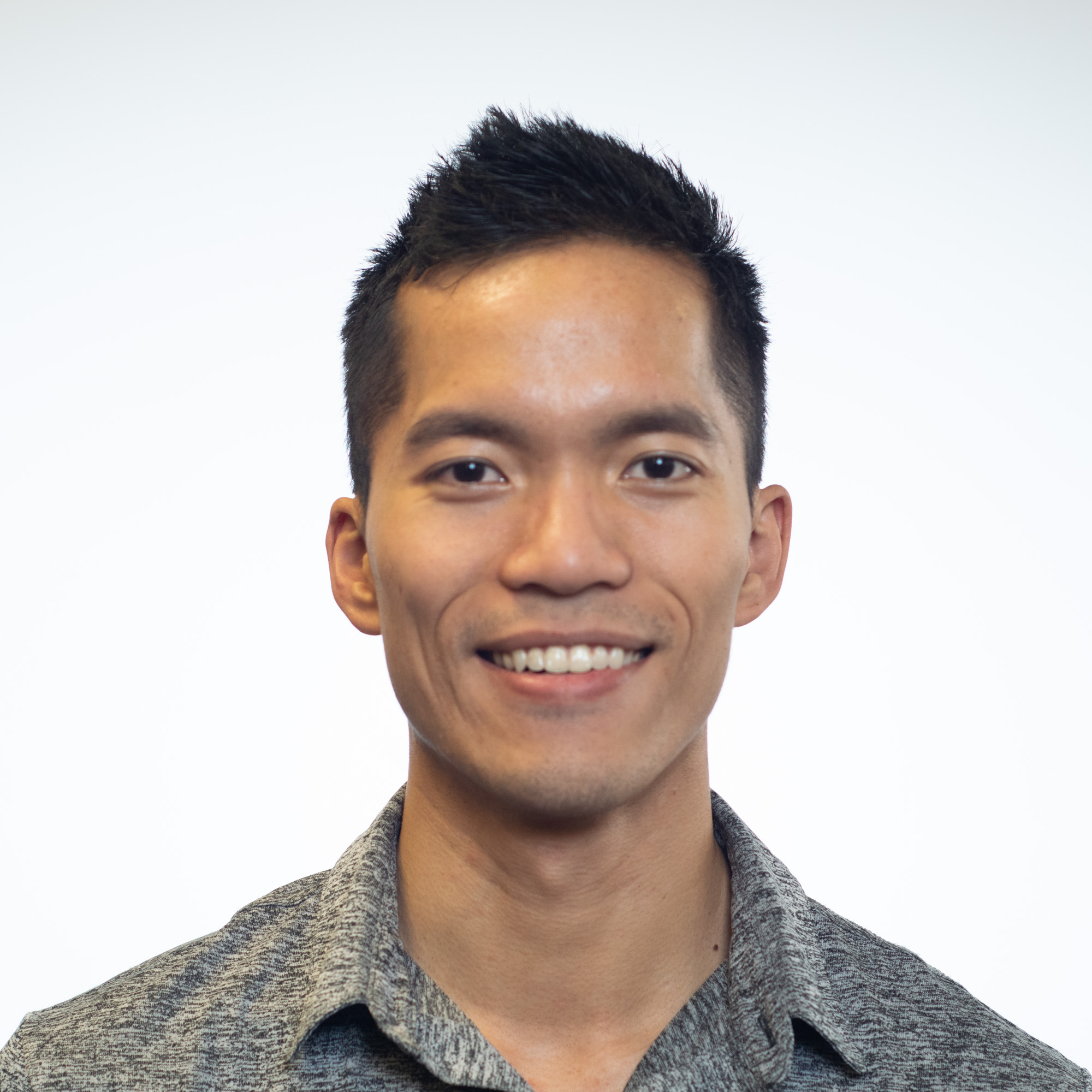 Yin is a content producer and visual designer at Energy Management Corp. He has over a decade of graphic design, photography, and business experiences. Yin specializes in producing written & video content and he maintains the visual branding of EMC.