What is EASA?
The Electrical Apparatus Service Association (EASA) is an international trade organization of more than 1,800 electromechanical sales and service firms in nearly 70 countries. EASA also "provides engineering consulting services to members and works with manufacturers, industry organizations and government agencies to promote better repair standards and assure the highest quality professional service for customers" (EASA). Through their association, and a sanctioned third party auditor, your motor shop can become EASA accredited, but why should you and what does that entail?
Why Does EASA Accreditation Matter?
EASA accreditation should matter to both your customers and your business. Accreditation signals that your motor shop follows strict standards throughout the entire motor repair process. These standards help to guarantee the best possible outcome and preserve motor efficiency. They also signify that your shop has gone through a rigorous inspection of its repair processes and proper calibration of all equipment. Successfully acquiring EASA accreditation shows your customers just how much effort your shop puts into each and every motor repair job that comes through your door. Out of the 1,900 EASA member shops, only 138 are accredited. Energy Management Corporation is one of those 138!
What Does an Accreditation Audit Entail?
EASA approved auditors will inspect your process and workspace in 23 different areas including:
Housekeeping
Employee Training
Internal Audits
Identification and Condition Assessment
Terminal Leads, Connectors and Boxes
Cooling System
Shafts
Bearings (Ball, Roller; Sleeve)
Lubrication
Frame and Bearing Housings
Squirrel Cage Rotors
Balancing
Accessories
Winding Removal and Core Integrity
Rewind Data (Specification)
Stator Windings, Insulation System, Conductors and Coils
Winding Impregnation
Winding Insulation and Coil Tests
High-Potential Tests
Bearing Insulation
No-load Tests
Finish and Handling
Calibration
EASA requires that certain tools be on-site and their calibration be verified by the auditor. The auditor will check the calibration of each of these pieces of equipment and may possibly request a calibration certification from any companies you may outsource work to. The tools that will be inspected for calibration include:
Electrical
Milli-ohmmeter
Ohmmeter
Voltmeter (AC)
Ammeter (AC)
Wattmeter (AC)
Megohmmeter
High-potential tester
Surge tester
Core tester AND/OR Loop test
Growler (functional)
Test Panel (To motor rated voltage; individual instruments calibrated)
Mechanical
Inside micrometers
Outside micrometers
Dial indicators (Verification by service center)
Digital tachometer (Verification by service center)
Terminal crimpers (Verification by service center)
Vibration meter
Balancing machine (Outsourcing is permissible)
Gauge blocks (if applicable; periodic verification by gauge block manufacturer or other qualified external source)
Physical
Temperature meters
Burnout oven part temperature control
Burnout oven analog or digital recorder
Burnout oven water mist system (Verification by service center.)
Bake oven temperature control
Winding machine with turns counter (Verification by service center)
VPI system vacuum gauge (Only applies if service center has VPI system. VPI process outsourcing is permissible)
VPI system pressure gauge (Only applies if service center has VPI system. VPI process outsourcing is permissible)
(You can find the entire checklist as well as all applicable criteria on EASA.com)
Are There Any Exclusions?
Excluded from the scope of the EASA accreditation program are specific requirements, certifications, and inspections required for listed explosion proof, dust-ignition-proof, and other listed machines for hazardous locations. Also excluded are specific or additional requirements for hermetic motors, hydrogen-cooled machines, submersible motors, traction motors, or Class 1E nuclear service motors (EASA).
How Does My Shop Become Accredited?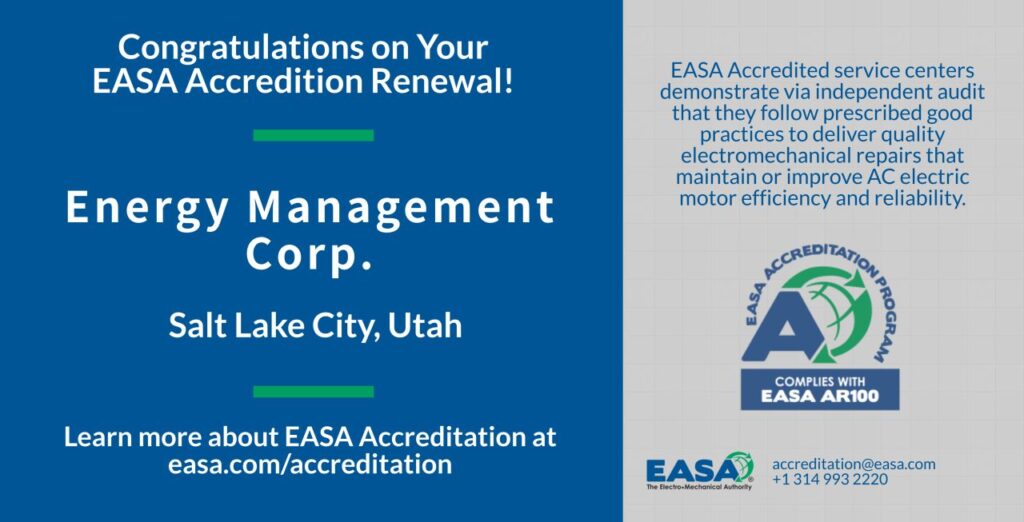 The steps outlined on EASA.com are as follows:
Download applicable documents that form the foundation of the EASA Accreditation Program from EASA.com and review them.
Download and complete the EASA Accreditation Program application and pay your non-refundable application fee payment ($300 for current members, $1500 for non-members. The fee covers three years in the program).
Select an EASA-sanctioned auditor. Their fees are separate from the application fee and vary from auditor to auditor.
After you select an auditor, pay any fees charged by the auditor as well as provide them with a copy of the receipt for payment of the EASA Accreditation Program enrollment fee.
Prepare for and schedule your initial third party (on site) audit. (Note: Third-party audits are required every three years. During years between third-party audits, accredited service centers are required to conduct internal self-audits that will be reviewed by an EASA-sanctioned auditor).
Conduct the initial third-party (on-site) audit. If disapproved, the auditor will describe the unacceptable conditions and list corrective actions that must be taken; completion of corrective action often can be approved remotely by email, photos, etc. (There is no time limit for completing the initial third-party audit).
After successfully completing you initial third-party (on-site) audit, the auditor will sign and date the audit checklist. This date will become your service center's anniversary date in the EASA Accreditation Program.

The auditor will also forward to EASA a copy of the final signed audit checklist which will become part of your service center's permanent record. At this time, EASA will issue to the service center:

A customized EASA Accreditation logo for use on company websites and marketing materials.
A company listing as an EASA Accredited repair firm on EASA's website.
Placement of the EASA Accreditation logo next to its member records in "Find a Member" lookups on EASA's website.
100 serialized Accreditation Repair Labels for used on accredited repair jobs. (Additional labels are available for purchase in packages of 100.)
A customized press release that announces the firm's accreditation and explains the importance of EASA Accreditation for maintaining or improving the efficiency and reliability of repaired motors.
A customized Accreditation Certificate (printed and PDF)
A customized, tri-fold marketing brochure that you may print and distribute to your customers.
Announcement of accreditation in EASA's newsletter, Currents.
Secure storage of the completed audit (PDF) in the firm's password-protected company record at EASA's website.
The benefits for becoming EASA Accredited outweigh the cost when you think about the peace of mind you bring to your customers and your technicians. If your technicians have faith in their shop's processes and equipment, they will be more efficient, happier to come to work, and much more likely to recommend their shop to friends and family. Customers who recognize that you put in the time and effort to becoming EASA Accredited will feel much safer trusting you with their mission critical projects.
Next time you're trying to find a motor shop to take care of your equipment, look for shops that are EASA accredited. If you are a motor shop looking for new ways to ensure that your customers know that they will be well taken care of by technicians who know what they are doing, think about becoming EASA accredited.
---
Looking For A Well-Qualified And Trusted Motor Repair Shop? Look No Further!
Call

800-595-5315

Or Connect With Our

Expert Technicians

Here:
---
Other Articles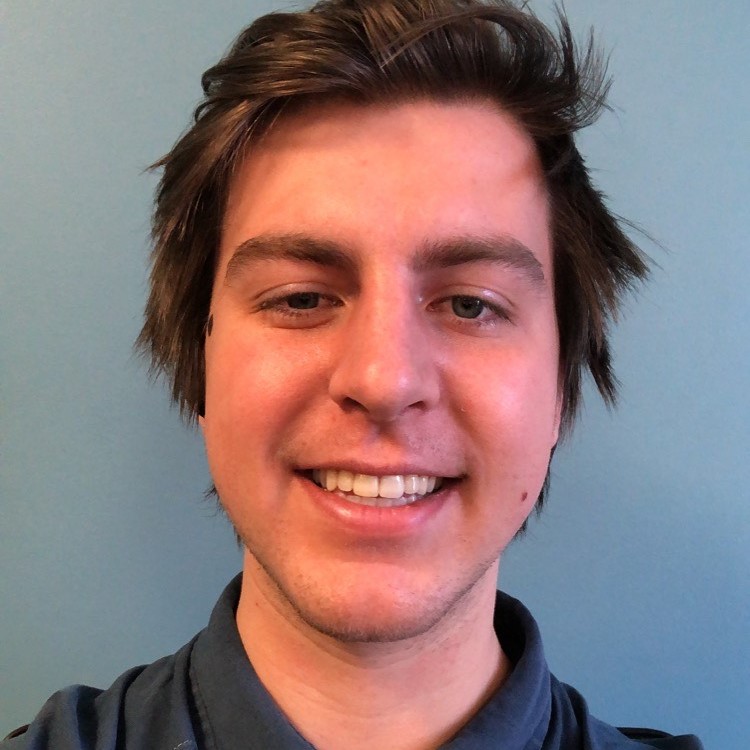 John is a marketing specialist working out of EMC's Salt Lake City office. He oversees the articles and blog content for Energy Management Corp. On the weekends, you can catch John skiing at the resorts in Little Cottonwood Canyon.