Vibration Analysis, Painting, & Certification: An In-Depth Look
In our last motor shop spotlight we discussed how our motor shop handles the dynamic balancing, reassembly, and final testing of your motor to ensure it is returned back to you in tip top shape. This week, we will finish up our motor shop spotlight with the vibration analysis and painting procedure that each motor goes through. We will also go over all the certifications our shop holds in order to ensure our technicians are trained to take the best care of your equipment possible.
Vibration Analysis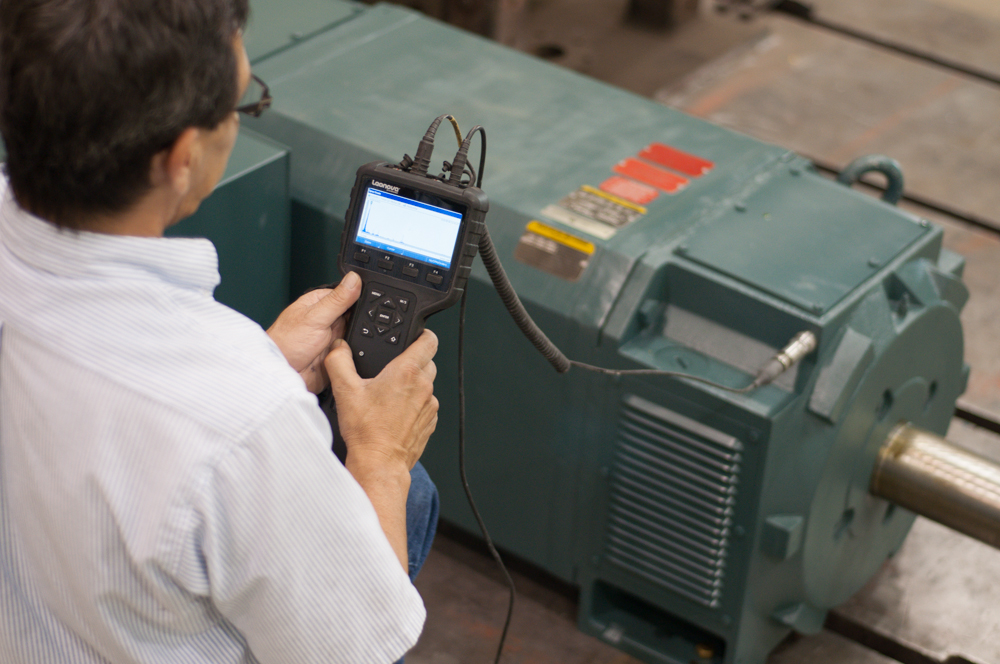 An out of balance motor will cause extensive issues for its driven application. Misalignment, imbalance, looseness, and uneven wear patterns can all play a part in causing harmful vibrational patterns. Our shop goes through an extensive process to make absolutely sure that your motor will leave our shop with no vibrational issues.
A magnetic base tachometer is installed and directed toward the photo tape on the shaft that was previously installed before the test run. The accelerometer is installed on the opposite drive end in a horizontal position and the first reading is taken. Follow up readings are then taken in all three vectors on both bearings, including shock pulse. Read more on the tools and technology for vibration analysis here.
Vibration readings include full spectrum and time/wave form in each vector with order tracking. Then shock pulse readings are taken with a 32 kHz tuned accelerometer to pick up any ultrasonic bearing noise and to allow the technician to see if any bearing defects are in place.
Overall ISO 2372 readings are taken as well in each vector for customers that use this standard in their periodic maintenance programs as a base line. These overall readings are then documented. All other vibration data is then loaded into our Condmaster software and kept on its own server for future reference.
Painting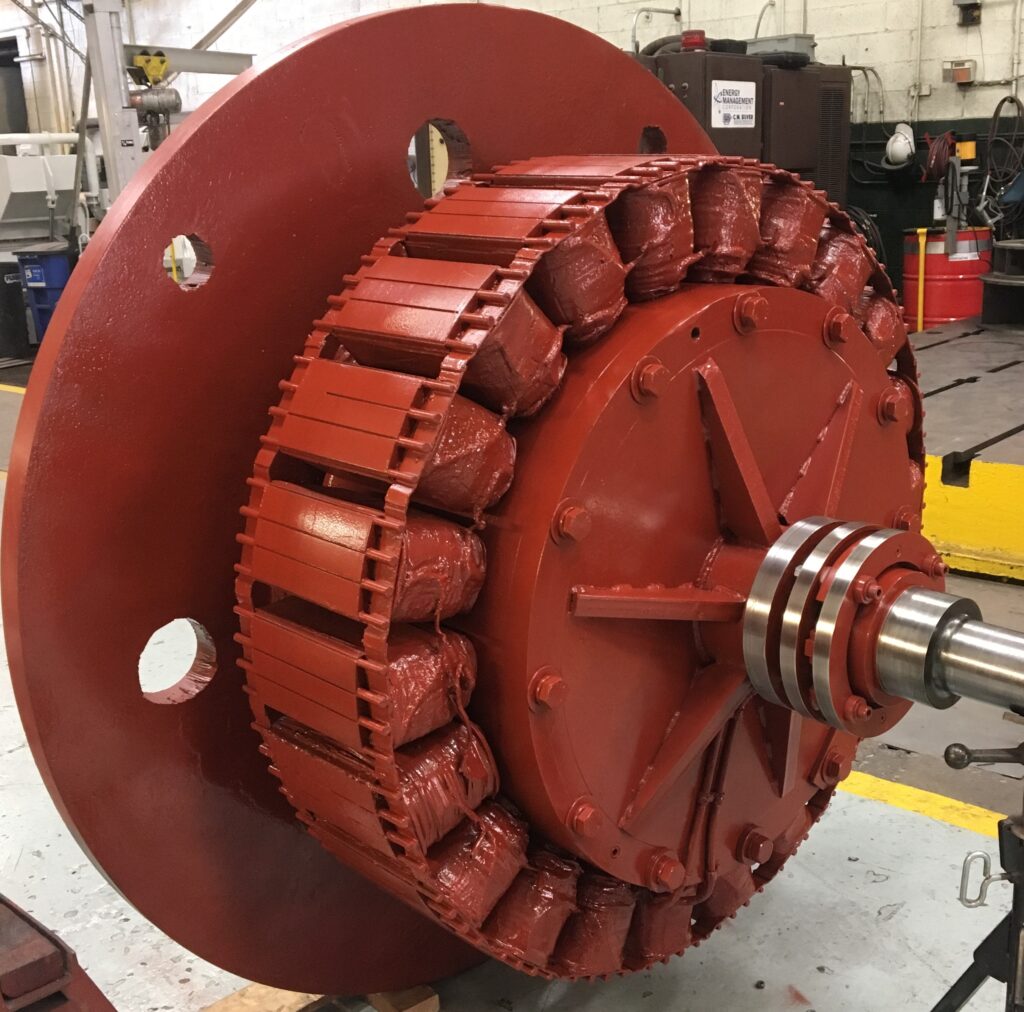 Different kinds of applications require different kinds of paint. Motors used in food service, around chemicals, at high temperatures, or in extreme weather need more robust protection from their paint and surface treatments than motors used in clean, temperature controlled buildings.
We first prep the external areas of the motor by removing all oils, grease, and loose paint. Nameplates, leads, grease fittings, sight glasses and decals are taped off. Then the motor is moved into the paint booth.
The EMC standard paint color (or customers preferred color) is mixed per manufacturer recommendations. Protective respirators and PPE are worn at all times by the painter.
The paint is applied in smooth, even coatings until the desired look is achieved. The motor feet are wiped clean, masking tape is removed, and the motor is set into the delivery area to dry.
After the motor is dry, a final inspection is done to ensure the motor is assembled properly and the paint job looks perfect! Your motor is then ready for business.
Certifications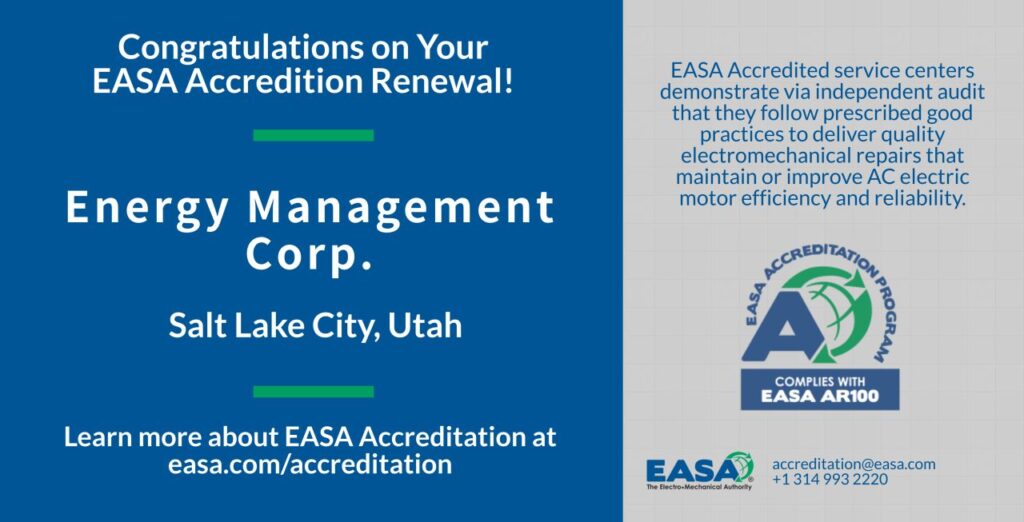 We are an EASA accredited member, and are proud to say we were the second EASA accredited facility in the United States many years ago! EASA accreditation requires strict compliance with EASA's most stringent standards, including calibration, employee training, and best practices per EASA AR100. This accreditation requires regular third party audits to ensure continued compliance. If your current motor shop can't show you their EASA Accreditation certificate, you need to find yourself a new motor shop.
Our shop is also Green Motors Certified in Utah, Idaho, and Wyoming. This means that our rewind facilities follow best practices in preserving motor efficiency, including pre and post rewind core tests, ensuring that core losses are less than 6 watts/lb. Windings must also be tested for maximum efficiency before the repair process is complete. Green motors certification from your motor shop is often required to qualify for rebates from utilities.
UL Certification is required for any shop producing or repairing explosion proof motors used in hazardous locations. Our Salt Lake City, UT motor shop is UL certified. We are also certified by multiple bearing manufacturers, assuring that our facility follows best practices in bearing inspection, handling, installation, and testing. These certifications require manufacturer training and regular facility audits by a third party to ensure the shop is following the most rigorous standards possible to ensure a proper motor repair.
Check out the other sections of this 4 part series here!
---
Got More Motor Questions? We Can Help!
Call

800-595-5315

Or Connect With Our

Expert Technicians

Here:
---
Related Articles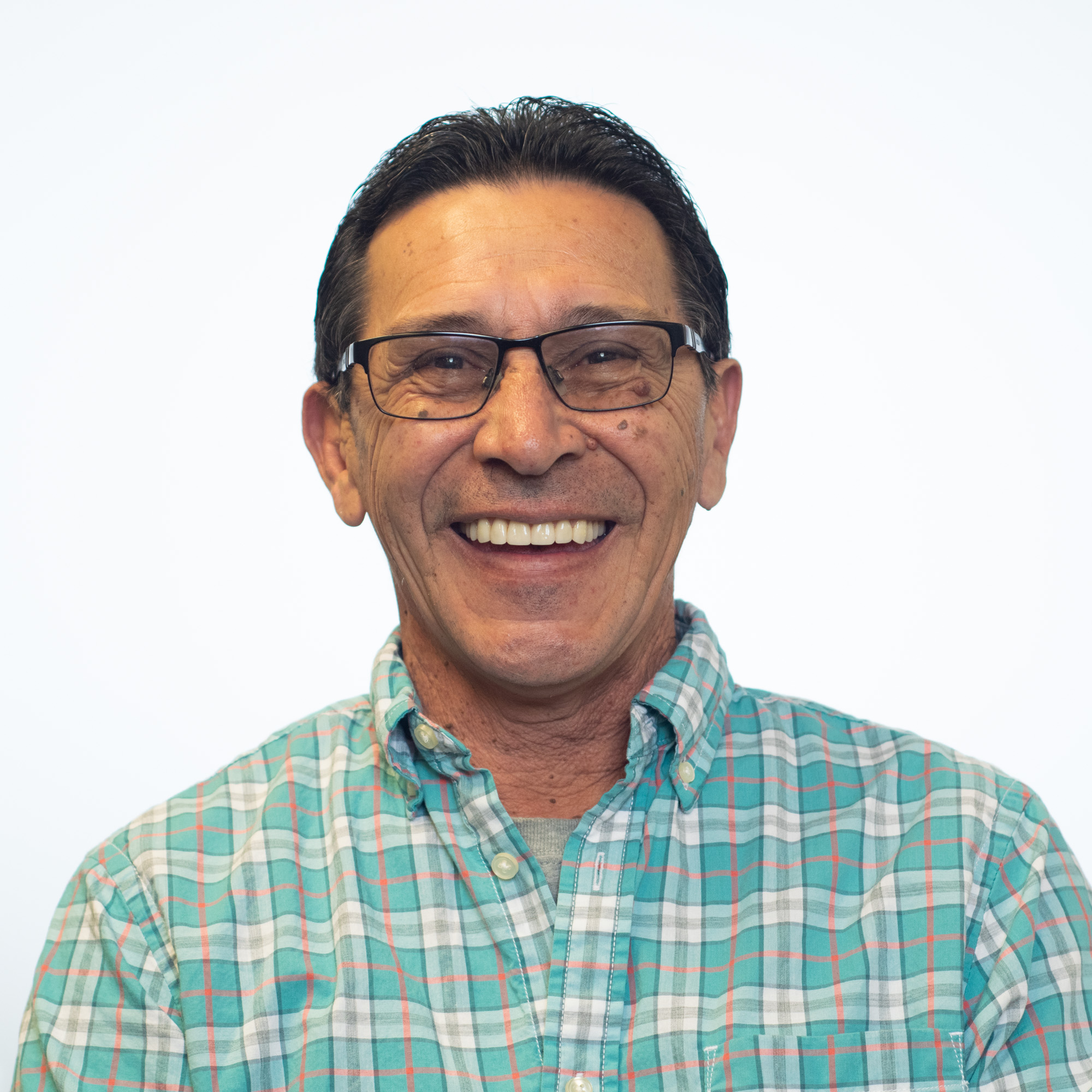 Gary has 30+ years of experience at Energy Management Corporation working in all aspects of motor and mechanical repairs. In his extensive career, some of the interesting projects he has worked on include Hoover Dam hydro generators, Utah power sub stations, harmonic filters for VFDs, and motor for the Buckeye Bullet that set the land speed record for electric car.